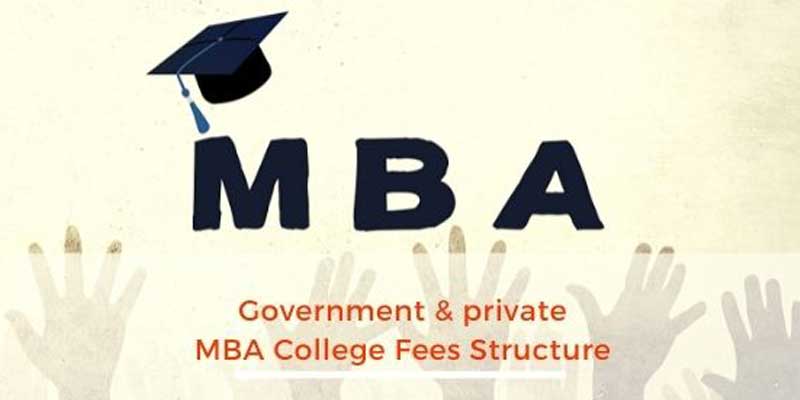 Master of Business Administration, or what we know as MBA has gained much of its popularity in the past few years, especially in India, because of the wide range of opportunities and possibilities it provides on the completion of the course, and the value the degree holds while applying for jobs and internships. On observing, we will see that not only do the students with a background in management studies (BBA or equivalent) apply for MBA but there are a large number of students who have graduated from other streams, also apply for the same. Thus, every year people appear for CAT, MAT, CMAT, and whatnot! MBA provides the students with an opportunity to work in currently flaming fields of work such as finance, human resources, and management, gain global exposure, gain both soft and hard skills and build personal credibility. In India, there are no other streams of study which do the same. MBA aspirants aim for the best colleges in the best places, and thus, admission to a good MBA college in Delhi becomes the objective. But how to choose from the abundance? To help with the options, this article provides a list of the best colleges, which can be used as a reference list, along with the MBA fee structure.
Government MBA college Fees Structure in Delhi NCR
Name Of The College
Fee Structure
Department of Management Studies, IIT Delhi
₹ 8.5-9.90 lakhs
MBA (General)- ₹ 9.60 lakhs
MBA (Telecom)- ₹ 8.80 lakhs
Executive MBA- ₹ 10.80 lakhs
Jamia Milia Islamia
₹ 47K- 2.1 lakhs
IIM Rohtak
₹ 17 lakhs— 33 lakhs
Indian Institute of Foreign Trade
₹ 18.24 lakhs
Faculty of Management Studies, University of Delhi
₹ 1.92 lakhs
Delhi School of Management
₹ 4.19 lakhs
Department of Financial Studies, University of Delhi
₹ 23.52 K
Shri GuruGobind Singh College of Commerce(Delhi University)
₹ 62.24 K
Department of Business Economics
₹ 24.86K
Gurugram University
₹ 90K - 2.2 L
Guru Gobind Singh Indraprastha University
₹ 1.52 lakhs- 1.58 lakhs
MDU Rohtak
₹ 76.98 K - 78.68 K
Jamia Hamdard University
₹ 3 lakhs- ₹4.75 lakhs
Dr B.R. Ambedkar University Delhi
₹ 3 lakhs
J.C.Bose University of Science
₹ 1.97 lakhs
Private MBA College Fees in Delhi NCR
| Name Of The College | Fee Structure |
| --- | --- |
| International Institute of Health Management Research(IIHMR) | ₹ 7.4 lakhs |
| Institute of Marketing and Management | ₹ 10.8 lakhs |
| International Management Institute- IMI Delhi | 17.68 lakhs |
| FORE School of Management | ₹ 16.98 lakhs |
| Apeejay School of Management | ₹ 8.5 lakhs |
| UPES | ₹ 8.50 lakhs-14.8 lakhs |
| FOSTIIMA Business School | ₹ 8.25 lakhs |
| Pearl Academy Rajouri Garden | ₹ 10 lakhs - 12.9 lakhs |
| JIMS Kalkaji - Jagannath International Management School | ₹ 7.95 lakhs |
| Jagan Institute of Management Studies | ₹ 8 lakhs |
| Fortune Institute of International Business | ₹ 8.75 lakhs |
| Lal Bahadur Shastri Institute of Management | ₹ 13.34 lakhs |
| Institute of Management and Research, Bharati Vidyapeeth | ₹ 6.5 lakhs |
| Delhi School of Business | ₹ 8.45 lakhs |
| IILM Institute for Higher Education | ₹ 12.9 lakhs |
Important things to know about MBA fees in Delhi
1. Opportunities- Delhi NCR is among the top destinations for MBA Course in India. It holds many of the best MBA colleges in India and thus provides a variety of career opportunities to aspiring students. Even if the fees of many colleges there might sound a bit on the expensive side, the colleges make sure that the students get the most out of it, thus making the Delhi MBA colleges a good place to invest in.
2. Range- As it is evident from the lists mentioned above, Delhi has MBA colleges for every price range, starting from as low as 47 K to up to 15-17 lakhs. However, the difference mostly lies in the infrastructure and the facilities, while all the colleges provide good quality education for their students. Thus students can choose as per their affordability.
3. Why is it popular? - Delhi MBA colleges, owe their popularity to the best quality education, location, the flexibility of the fees range, and the high acceptance rate.
4. Perks- Getting admitted to the top MBA colleges in Delhi ensures well-paying jobs, as Delhi being the capital of the country, is a region flooded with both public and private companies, which need good MBA graduates. Thus, investing in any of the good colleges, along with proper dedication towards studying can ensure a good lifestyle.
5. Admission- Students must make sure that they are applying for MBA entrance exams, which are taken as relevant in their preferred colleges. Some colleges take admission via multiple exams. If one is fixated on a particular college, it is best to at least apply to 2 such exams, to increase the chances of getting accepted. However, many colleges take admission based on merit.
How to make MBA education more cost-effective?
No matter which college provides the education at the lowest cost, MBA education is comparatively expensive than other courses. Mentioned below are a few ways to make MBA education more cost-effective:
1. Cut on daily expenses. It is very possible, especially if you are a student who graduated from other courses which didn't require much spending, this might seem difficult at first. The best way to do it will be by keeping a record of every small and big expense and making an effort to keep things under a particular budget
2. If you are staying far from your chosen college, you are bound to spend more money on transport. Opt for the college hostel, or get a mess/flat near your college.
3. One positive factor of studying MBA is that there are many available paid internships. There are multiple apps and sources that can provide you with internships to exercise your skills and earn, to help yourself with the expenses.
4. Similarly, part-time jobs are also available. Choose one concerning your schedule.
5. Keep yourself in check with the available scholarships. Scholarships are aimed at helping aspiring students, and if you meet the requirements, a good scholarship will automatically lower your daily expenses.
6. Save up. The tendency to buy superficially alluring things should be kept in check.
7. Try to stay away from using credit cards as much as possible.
8. The amount being spent on MBA education should be kept in mind, and studies should be taken seriously. Manage your daily activities (including internships and part-time jobs) in a way that leaves you some time to keep your studies and assignments in check. Dedicated students can land well-paying jobs during placements, which can help pay the student loans later on.
Conclusion
A postgraduate degree in management may be the most popular and sought after career preference for graduates from different fields, but that doesn't mean it's accessible to students from all strata. As much as students from diverse professional spectrums aspire to study MBA and yield high ranking positions at renowned companies, one of the downsides of wanting to study MBA is the high fee structures which have become a concern given the current socio-economic conditions of people. In such a scenario, finding a college that offers good placement, uncompromised education, and accurate industry exposure while being affordable and within the budget of a common working man has become a difficult task. Eventually, one must choose a college as per their preferences and manage their finances accordingly. This article will guide you as a reference text while choosing from the best. Overall, Delhi is the home to the best MBA colleges, and adequate zeal accompanied with admission to one of those colleges is bound to result in a fruitful outcome.